Tusk has 4 types of evolutions, each of them can be evolved by using Holy Corpse. If you want to get Tusk ( Tusk Act 1 ), it can be obtained by buying Spin from Gyro for 10k Lire ( 10000 Lire)
Information of Tusk Act 1
[
]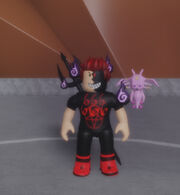 Tusk Act 1 is extremely weak to fight, so the user of the stand will attack instead of the stand itself, also the weakest among Tusk 1-4
Tusk Act 1 has 155 health
<Movesets of Tusk Act 1
[
]
LMB ( Normal Attack ) -- LMB means Left Mouse Button

[

]
The user itself ( instead of the stand ) will punch the enemy with its fist, dealing 10 damage per punch to the enemy itself
E ( Hand Raise )

[

]
The user will raise their hand when using this skill, this skill does nothing apparently, meaning it does not deal damage , gain damage or did not even give a boost
Z ( Nail Glide )

[

]
Both the user and Tusk Act 1 will glide for a short duration and glides slowly , but it will deal 5 damage per hit when in contact with a enemy / player
C ( Roll )

[

]
Both the user and Tusk Act 1 will roll forward that lasted less than a few seconds
Tusk Act 2 ( Information )
[
]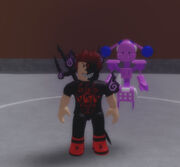 Tusk Act 2 is a stronger version and the evolved version of Tusk Act 1 as it appears to be slightly larger and having more details than Tusk Act 1
Tusk Act 2 has 177 health ( 22 Health more than Tusk Act 1 )
Movesets of Tusk Act 2
[
]
Its movesets are the same as Tusk Act 1 , except the LMB move ( Normal Punch ) has increased attack
LMB ( Normal Punch ) --- LMB means Left Mouse Button

[

]
The user ( Instead of the stand ) will punch the enemy, dealing 15 damage per hit to the enemy
E ( Hand Raise )

[

]
The user will raise its hand when using this skill, it does not do anything, meaning it will not deal damage, gain damage or even give boosts
Z ( Nail Glide )

[

]
Both the user and Tusk Act 2 will glide around for a short duration and in a slow speed, but deals 5 damage per hit to the enemy when in contact
C ( Roll )

[

]
Both the user and Tusk Act 2 will roll forward that lasted lesser than a few seconds
Tusk Act 3 ( Information )
[
]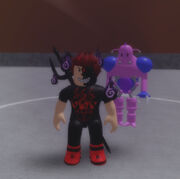 Tusk Act 3 is a stronger version of Tusk Act 1 and 2 , but the movesets remains the same as Tusk Act 1 and 2 , only the appearance of the stand and the damage of the normal attack. It also appears to be slightly large than Tusk 1 and 2 with more details
Tusk Act 3 have 199 Health ( 22 more than Tusk 1 and 2 )
Movesets of Tusk Act 3
[
]
Movesets is still the same as Tusk Act 1 and 2 , but only the normal punch damage increased
LMB ( Normal Attack ) --- LMB means Left Mouse Button

[

]
The user ( Instead of the stand ) will punch the enemy, dealing 25 damage per hit to the enemy
E ( Hand Raise )

[

]
The user will raise its hand when using this skill , but it does not do anything , means that it will not deal damage , gains health or gives boosts
Z ( Nail Glide )

[

]
Both the user and Tusk Act 3 will glide around for a short duration with a slow speed , but deals 5 damage per hit to the enemy when in contact
C ( Roll )

[

]
Both the user and Tusk Act 3 will roll forward that lasted lesser than a few seconds
Tusk Act 4 ( Information )
[
]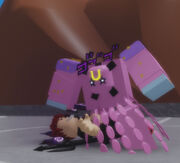 Tusk Act 4 is the final evolution and it is the strongest version among Tusk 1-4, the appearance, the movesets has improved tremendously . Tusk Act 4 appears to be the largest among Tusk 1-4 with a humanoid body with a head on its chest
Tusk Act 4 has 270 health ( 80 health more than Tusk 1-3 )
Movesets of Tusk Act 4
[
]
There are lots of skills added to Tusk Act 4 , have increased attack damage and even some passives
Passives
Infinite Rotation ( When using this passives, it totally ignores D4C : Love Train's damage reflection and able to attack Sans and Enchanted Dummies without negated, but that only works when you use a melee attack. When using H move while having this passive, you have a passive called Timestop movement, meaning you can move during timestop, but it only lasted 7 seconds. For LMB move ( Normal Punch ) , sometimes it can hit the enemy twice or even thrice with one punch
Health Regeneration ( Heals 1-2 health every second )

Movesets of Tusk Act 4
LMB ( Normal Attack ) --- LMB means Left Mouse Button

[

]
Tusk Act 4 ( Instead of the user ) will punch the enemy , dealing 12 damage per hit to the enemy. Since the user itself have Tusk Act 4 with a passive ( Infinite Rotation ) , Tusk Act 4 will punch the enemy twice or even thrice in the LMB move
E ( Fast ORA barrage ) -- Hold E

[

]
Tusk Act 4 will throw multiple fists to the enemy at fast motion, dealing 9 damage per hit to the enemy. While using this barrage, the stand will yell " ORA ORA ORA " , which is the same sounds that Star Platinum use for barrage
T ( Nail Shots )

[

]
Tusk Act 4 will shoot multiple glowing projectiles ( Nails ) to the enemy, dealing around 30 damage each hit to the enemy, it can be spammable for the first 5 but has a very short cooldown of 6-7 seconds for every 5 nails
R ( Heavy ORA punch )

[

]
Tusk Act 4 will punch the enemy with a heavy blow, dealing 65 damage and knockbacks the enemy to a short distance. When using this skill, Tusk Act 4 will yell " ORA " before punching the enemy. It was the same thing as Star Platinum used when using heavy punch
Y ( Nuclear Nail Shot )

[

]
Tusk Act 4 will shoot a white glowing projectile, deals around 60 damage when hitting the enemy. It also caused the enemy to launch up into the sky. It also has a high activation delay but it has a long cooldown (around 15 seconds)
H ( Jumping Nuclear Nail Shot )

[

]
Same thing as the normal nuclear nail shot , but it makes the user and Tusk Act 4 to jump a small height when launching the nail shot and has a longer cooldown (around 35 seconds). But because Tusk Act 4 has a passive ( Infinite Rotation ) , the user and Tusk Act 4 can move around during timestop for 7 seconds. It has a short cooldown to make in timestops
Z ( Nail Guide )

[

]
Both the user and Tusk Act 4 will glide around, but it is much faster compared to Tusk 1-3's Nail Glide, it also has a short cooldown for it (4-5 seconds)
C ( Roll )

[

]
Both the user and Tusk Act 4 will roll forward that will last less than few seconds
V+Cursor ( Teleport Punch )

[

]
Tusk Act 4 will teleport to a enemy where your cursor clicks while pressing V at the same time, then dealing the enemy a superior amount of 61.999 damage while saying " CHYUMII ", Also has a chance to hit twice.
F ( Tusk Beatdown )

[

]
In order to activate this skill, The user have to be 60 hp or below. When using this skill, Tusk Act 4 will do the animation which is similar compared to the Heavy ORA punch, but when hitting the enemy, Tusk Act 4 will start the beatdown while dealing 2.5 damage to the enemy itself. Since it is a beatdown, it was lasted for a very long duration in order to destory the enemy / finishing its job. After that, there will be a quote
" It has truly been a roundabout path. Arigato, Gyro... "
After this quote, players in your server can't attack, or even use other moves like Timestop while being beatdowned, meaning that the user is invincible. But only NPC Bosses like DIO and Funny Valentine can still attack you despite being beatdowned.
N ( Quotes )

[

]
The user will say one of the following quotes in this list
" Arigato, Gyro ... "
" I'm ending it all here! "
" Damn it..Diego ! "
"Who will be the sacrifice?"
it has, truly,been a roundabout path.
Edited by HRufxen
Original Author of the page: IgorRoblox666