You get This stand by using a holy corpse on scary monsters. Also you can very rarely get it from a regular arrow, I'm not sure how rarely though
moveset: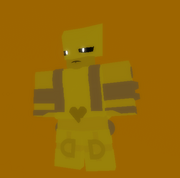 E: "MUDA
DA MUDA" 1 Punch Combo: Does a triple hit punch, dealing 24.5 damage each punch. Doesn't count as a barrage, but still shares some traits.
R: MU~DA Heavy Punch: Does a single strong punch, knocking the opponent rather far and doing 45 damage.
T: Knife Throw: Throw 4 knives, 2 at a time. Does 50 damage each knive, ending up with an outstanding 200 DAMAGE if all knives connect.
Y: Revolver Shot: The World AU (or you) take out an edgy revolver and shoot your opponent like it's high noon. Does 50 damage every bullet.

Quotes:
Same quotes as The World AU Over Heaven, as far as I know.
two ways of getting this, from arrow or holy corpse on scary monsters
-Ziplors

Since evolving from Scary Monsters using a Holy Corpse is a downgrade, it can evolve with a Mario Hat into Mario Platinum.
-Panfletin
This can also be turned into TWOHAU with Diego's requiem arrow, but it's currently broken. Not only that, but it's missing its helmet
-tense_bitauruma