How to get Shiny The World Over Heaven: Use a DIO's Diary on The World: Heritage For The Future to get Shiny The World Over Heaven

Controls:
(LMB) Deal 12.5 DMG
(E) Barrage DMG deals 4.5 DMG
(R) Strong Punch deals 42.5 DMG
(T) Heavy Punch (Erase Punch) deals 90 dmg
(Y) Heals allies in battle like a "Guy who became toxic and killing everyone infinitely and guy gets battled" or 1V1 (they call you teamers)
(B+Y) Heals the user
(F) Time Stop for 12-13 Seconds I think
(G) The user and stand poses
(H) Strikes the ground deals 50 DMG
(Z) Stand Leap
(C) A normal roll
(V) Throws a Glowing Knife
(N) "THIS IS THE GREATEST HIGH" *laughs* "ABSOLUTE WEAKLING!" "If this were a game of chess between us,this would easily class as checkmate"
"Filth."
(M) Stats:
Destructive Power: S
Speed: S
Durability: S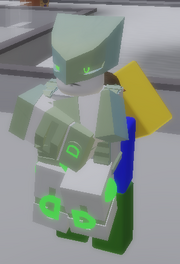 Community content is available under
CC-BY-SA
unless otherwise noted.