Pot Platinum is a variation of pot stands in AMA. Pot stands are one of the rarest stands in the game excluding shadow pot plat.
Pot platinum in most JoJo games are described as being strong and are custom stands
A bizzare day was one of the popular games that included pot stands.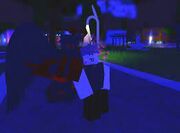 And yes pot platinum in AMA is unobtainable only the devs can get it