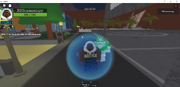 Hierophant Green is a Stand that can be obtained by using a normal Stand Arrow on Standless.
It isn't very strong because it comes with 120 HP.
It's a trash stand. I don't know why you came here.
Moves:
E - Emeraldo Splash - Range Attack which is spammable.
R - "Strong" Punch - Loads an attack, which will do 15 Damage
T - Trap Vines - Spins around trap vines, which will do damage, if the enemy will find themselves inside this
Z - Stand Jump - A high Stand Jump
C - Roll - An average roll.
F - 20 Meter Emerald Splash - A longer version of the normal Emerald Splash

G - Pose
N - Quotes:
NO ONE CAN JUST DEFLECT THE EMERALD SPLASH!
Lick Lick Lick Lick Lick Lick Lick Lick Lick Lick Lick