Diver Down is a stand that can be obtained by a Stand Arrow, it is rare it is a A tier in the value list.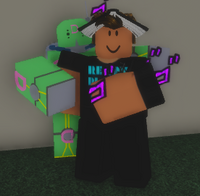 Moves:
Click: Punch
10 damage that is it.

E: Barrage
A 5 second barrage that does 9 damage a hit about 5 hits a second. 3 second cooldown.
R: Kick
Does a kick that does 35 damage and has a 1 second start up. 5 second cooldown,
Y: Revolver Burst Fire
A small fast projectile that does 50 damage can shoot 5 times then have to wait a cooldown to reload. (3 seconds to reload no animation)
F: Power Release
Drains power around the person who you put your cursor on (glitched atm so i dont know damage)
H: Body Invade
Does 12 Damage then 12 Damage then 12 Damage then 68 Damage.
Z: Glide
A fast glide does 2 damage if you run into someone. Lasts 5 seconds 15 second cooldown.
Combos:
go put combos i know none