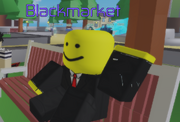 (NO LONGER IN THE SAME PLACE IN NEWEST VERSION)
The Black Market is a sub-area in the center of the map. The NPC responsible for owning the Black Market is named "poof_okay". Talking to him will allow you to sell him specific, valuable items for lire. These items include:
Cone (₤10,000)
Saitama's Cape (₤20,000)
Vampire Mask (₤30,000)
DIO's Diary (₤50,000)
Hellish Diary (₤80,000)
Camera (₤100,000)
As of the recent update, selling items through the Black Market has become a very easy way to farm lire. You gain ₤290,000 from selling all the items you can offer.
For some reason, the Black Market in-game is spelled as "Blackmarket".

Community content is available under
CC-BY-SA
unless otherwise noted.